A few years ago, in 2017, I attended a rather large music festival.
Apart from the music and general camping experience, one thing particularly got stuck in my mind: Someone wearing a beer crate as a backpack.
While one could argue this not being an unusual sight at a music festival, the thing that impressed me as a maker were the inner working of said crate: No beer, but instead a bluetooth-enabled, battery-powered music blasting system. And, true to the spirit of DIY, the whole thing was close to falling apart – but literally and figuratively a huge blast.
Naturally, after returning home, I set out to create my own.
The Plan
I already had a beer crate and a broken boombox (electronics were busted, but speakers still good). So the only missing components were a power source and a car stereo. As usual, Amazon provides everything on a budget of ~50€.
Next, I drew a rough layout of the box in 3D – to align the components: beer crate (light blue), car stereo (yellow), battery (dark blue), charger (medium blue), control panel (green), speakers (pink and orange):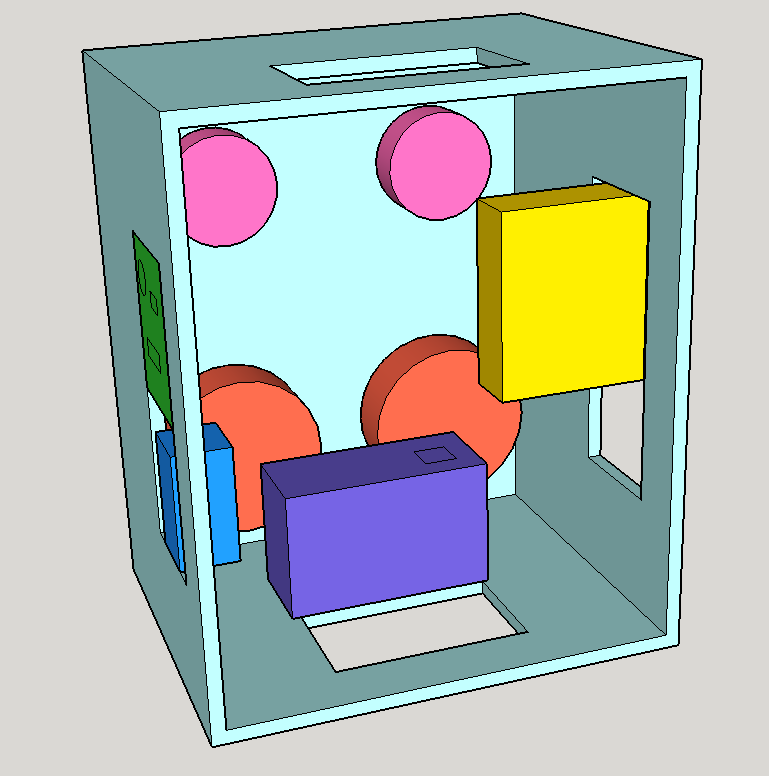 The build
The first step was to knock out the floor of the beer crate and replace it with a piece of wood:
Beer create with floor removed. A lot of work, because the plastic (I assume HDPA or something similar) really does not want to give.

Wood panel to replace the bottom, with cutouts for the speakers. Speaker grills already in place.
Next, I wired in the speakers and the car stereo, and added a small battery voltage indicator:
Speakers connected to battery and car stereo.

Voltage indicator.
After adding the charger and power socket everything was screwed in place using steel brackets:
Left: charger and power socket, center: battery, right: car stereo.

Completed wiring of the backside.

Easy access to car stereo.
The final steps were staining the wood to give it a nice finish, spraying on a logo and closing the box:
Front side, with grills spraypainted black.

Backside, still without logo.

Control panel with power switch, power socket for charging and voltage meter.
Stencil for spraypainting, laser-cut.

After spraypainting. What a nice logo.
Conclusion
Boy, it slaps hard. But I encountered several problems, and found several solutions to them:
Problem: Balance between High and Low was really off. Solution: Adjust knobs on stereo.
Problem: The thing rattled when the base was turned up. Solution: Stuff the whole box with foam.
Problem: Power cuts out when stereo pulls too much power. Solution: Don't turn up the volume to deafening levels or add another lead-acid battery (WIP).
Problem: Cumbersome to carry around. Solution: Add shoulder strap salvaged from boombox.
Problem: Neighbours complain. Solution: Invite them, too.